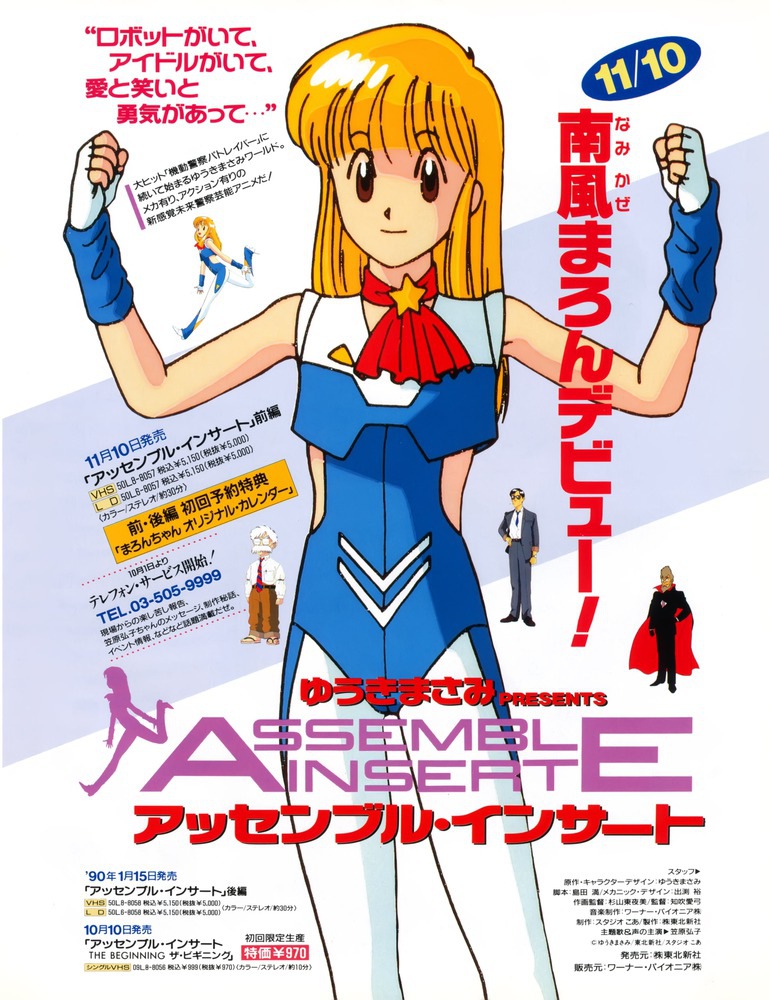 Welcome to the website that hopes to become the best reference for the anime Assemble Insert! Assemble Insert is a two episode OVA (original video animation) from late 1989, about a super-strong little girl who must become a pop star and stop a team of thieves.
The series is a parody of many 1980's anime, particularly Project A-Ko and Gunbuster, yet with none of the fanservice. It's a comedic, light-hearted OVA with many references that only a true old school anime fan can catch.
If you have seen this series, please stop by the episode section for my notes and explanations for some of Assemble Insert's more complex jokes and references!
Update - November 18, 2012: I've updated the download link for Assemble Concert with a functioning server, and
Update - December 3, 2010: I added one new picture, a new link, and fixed a misspelling of Dr. Shimokobe's name.
Update - September 9, 2010: After ages of neglecting this site, I finally gave the Assemble Concert page an overhaul. This now has a download link to the album and more correct information.
Update - November 11, 2009:
I've corrected some information, added a new link, a poster, and two .zip files featuring Hattori's cameo on Kyukyoku Chojin R (see
here
)!
Update - March 23, 2009: I went to Wikipedia Japan, and got the correct OVA release dates. I've got them listed in the episode section.
Update - February 27, 2009: I've added a screenshot page, a magazine cover to the merchandise gallery, and a bit of new info on Maron's redesigned costume.
Update - February 18, 2009: Finally! I've been working on this site since January 11th, and now it's officially online! All I have to do is find a reliable server that I can host all my Assemble Concert MP3s on.